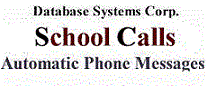 Send School Messages

Database Systems Corp. (DSC) has been in business since 1978 and is a leader in providing state-of-the-art computer software and telecommunications products and services. These products include automatic phone message (both text and voice) delivery systems that broadcast recorded phone messages to thousands of phones at once.
DSC provides a wide range of voice broadcast services at our own managed call centers. These services are ideally suited for schools and educational institutions that need to communicate rapidly with parents, students, faculty and the community at large.
Online Registration
DSC now provides an easy online signup for schools wishing to use our voice broadcasting service. Signup is easy and can be accomplished in just minutes. Our competitive rates are affordable, even for the smallest calling campaign.
Using our new online signup lets you get started immediately with your calling campaign. Simply create an account and agree to our standard terms and conditions. Then download your list of phone numbers and record a message. We accept major credit cards and for as little as $25, you can begin calling. Its that simple!
Both emergency and non-emergency voice broadcasting services can be provided by DSC.
To register online, click on the the online registration image or button on the right.
Emergency Notification
School calls can be sent immediately to all of your students and staff so that important events such as weather related school closings can be broadcast to everyone at once. Simply record your announcement online or using our 800 phone number. Next specify the list of individuals who are to receive this message. This list can be built online and can be stored for later use. Then simply push the "Start" button on our online administrative screen.
Use Your Smartphone
DSC now lets you manage your school calling campaigns using your Droid and iPhone smartphones. The following easy to use functions are available to smartphone users.
Login to your account
Select phone numbers
Select saved recordings
Record messages
Start and Stop broadcasts
Monitor the voice broadcast
This smartphone application now lets you manage any number of school call campaigns using simple phone commands. Contact DSC to learn more about this simple way to control your school calls and to obtain a copy of this smartphone application.
School Announcement Services
DSC can provide your school with a complete, turnkey call announcement solution. If a calling campaign needs to be initiated immediately, DSC provides outsourcing services at our secure data center. These services are ideal for school alerts and notifications.

The following is a list of some of the applications available with our school announcement service:
Notify Students and Parents Of School Closings
Replaces Manual School Phone Trees
Contact Parents Of Missing Or Late Students
Broadcast School Alerts During Emergencies
Contact School Administrators and Teachers
Announce School Activities and School Events
Easy School Messenger Service
Communicate Event Cancellations
Send School Reminders To Team Members
Coordinate with School Volunteers
Contact New Students For Orientation
Save Time Making Calls
Report Missing Students To Parents
Broadcast Emergency Calls During A Disaster
Send Substitute Teacher Requests
Automate School Fund Raising Programs
Announce Enrollment Schedules and Changes
Contact School Board Members
Employs Voice Broadcast Technology
Call Us Today
Contact DSC to learn more about our school phone tree calling services.