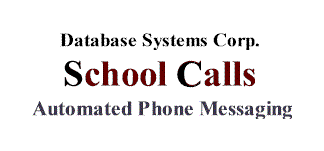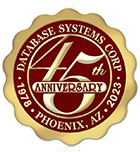 Frequently Asked Questions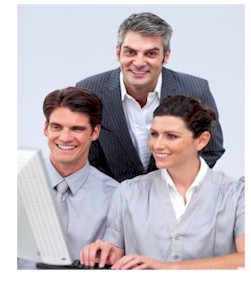 School call announcements for special events such as funerals and school meetings can be automatically broadcast to all or part of a congregation. A consistent message can be delivered to members of a school using DSC's call broadcasting service.
Maintaining contact with members of a school or synagogue is now a much easier task when using our school member calling services.
Database Systems Corp. (DSC) provides telecommunications products and services including voice broadcast services. DSC is a leading provider of message broadcasting services at DSC's own managed call center.
The following are a few of the most common questions asked when considering using school announcement and notification services from DSC:
---
General Information
What is automated school calling?
Automated school calling is a mass communication technique that sends a pre-recorded phone message to hundreds or even thousands of call recipients in a very short period of time. This technology can be used in business applications and for community alerts and notifications.
Does DSC provide outsourcing services and systems?
Yes, DSC provides school call broadcast outsourcing services at its Phoenix data center and also sells voice broadcasting phone systems. Voice message broadcast systems are integrated Windows, Intel PC and Dialogic telephony boards.
Is DSC the manufacturer or a representative?
DSC is the manufacturer of its voice broadcasting systems. Voice broadcast systems are fully integrated computer phone systems that are assembled and tested at DSC facilities prior to shipment. The hardware and OS components are industry standard Intel processors using Dialogic communications boards, both managed by a Microsoft Windows OS.

All of the school message broadcast control programs are developed by DSC. Custom voice broadcast applications can also be developed exclusively by Database Systems Corp.
How much does it cost?
School Announcement Calling Service Pricing
No Setup Fees
$25 per month for 7 days per week/24 hours per day access.
Includes first 200 calls at no additional charge.
Thereafter, usage fee starts as low as $0.05 per number for a 30 second message based on volume. This includes 3 attempts for "busy" and "no answer," and includes calls anywhere in the continental limits of the US.
Can I do just a one time school message broadcast?
Yes. If your group or organization wishes to perform a one time school calling campaign, use the following on-line registration form. Our online registration lets you submit your organization's information such as your group's name, address, billing and contact information. DSC provides pricing information as well as our online contract including terms and conditions. Here are some of the features and costs of our one time school announcement service:
One time $25 setup fee
Additional $25 (per run) for multiple runs at different times
Usage fee based upon list size (up to 3 calls per number)
24 x 7 voice broadcasting at your schedule
Submit your list online
Download your recorded message or record it using our 800 number
Faster signup and activation
Does DSC provide phone support?
Yes. DSC has been in business since 1978 and has always provided phone support to its clients. Emergency after hours support is also available as well as 24 hour email contacts.
How do I signup?
DSC now provides an online signup for both non-profit and business organizations wishing to use our voice broadcasting outsourcing services. Signup is easy and can be accomplished in just minutes. Our competitive rates are affordable, even for the smallest calling campaign.

Start Calling In Just Minutes!. Using our new online signup lets you get started immediately with your calling campaign. Simply create an account and agree to our standard terms and conditions. Then download your list of phone numbers and record a message. We accept major credit cards and for as little as $25, you can begin calling. Its that simple!

Both emergency and non-emergency voice broadcasting services can be provided by DSC.

To register online, click on the the online registration image or button on the right.


---
Payment Options
Does DSC accept Credit Card Payments?
Yes, DSC accepts Master Charge and Visa as a payment method. DSC can also invoice your organization (upon approved credit) and accept corporate or personal checks as a payment method.
How will I be billed?
DSC estimates typical monthly usage at the point of contract and includes one months deposit upfront. Thereafter, DSC provides end of month billing to clients showing service usage as well as any monthly fixed fee. This amount is either charged to a credit card or invoiced electronically (or by mail).


---
School Call Broadcast Operation
How does automatic school calling service work?
Once you have registered as a client, follow these simple three steps to initiate a school announcement broadcast:
Upload lists of recipientsí phone numbers to our secure website
Call the toll free number provided to make voice recordings of your out-going messages.
Initiate the calls from the website or from the toll free number (premium option)
There is no limit on the number or length of the phone lists you provide. Lists should be provided in a .csv file (a common Excel text format). If you prefer, we can provide professional voice recordings of your messages.

As soon as you initiate the voice broadcast campaign, DSC phone systems begin placing calls. If a person answers the call (or our phone system detects an answer machine), your message is played. If the call is not answered, the phone system will make three attempts at later times to send your message.
Is there a demonstration that I can see?
Yes, DSC provides two demonstrations of our voice broadcasting systems and services. Our quick tour presents an overview of our service while the online demonstration lets you view the actual voice broadcast administrative tool used to create and manage your calling campaigns.


Can my voice broadcast campaign be customized?
Yes, DSC specializes in the development of custom calling campaigns. These include both inbound IVR (Interactive Voice Response) call answering services as well as outbound voice broadcasting.

Database maintains a professional staff of call processing developers who can analyse your calling requirements and develop a custom campaign for you in just hours!
Can the calling campaign use phone key options?
Yes, voice broadcast campaigns can be designed to include phone key responses that are interpretted by the calling campaign and actions taken based upon the requirements you specify.

This could include providing the call recipient with a menu of choices or giving an option to speak with one of your representatives.
Are reports available with this service?
Yes, DSC provides an extensive voice broadcast reporting system. These reports provide the administrator with a complete view of the performance of calling campaigns and include graphical presentation of data as well.

This online reporting and feedback system helps you observe and control the performance of your automatic phone calling services.

Graphs and charts of operational statistics let you measure the effectiveness of each phone campaign as it is running.

The statistical information contained in each of these reports can be downloaded into a spreadsheet format for individually customized reporting.
How do I record my voice messages?
Database Systems Corp. provides an 800 number for clients to call to record simple phone messages. This easy to use service ensures that the voice message is recorded in the proper format. You can also submit a .wav file that conforms to the necessary format required to perform the calling campaign.
What is the data format of my phone list?
DSC supports several different types of files that contain phone lists for voice broadcasting. Simple Text files (.txt) can contain a list of phone numbers. Excel files (.csv) can also be used to provide phone numbers to our voice broadcasting service. (Note: be sure not to use field headings in this type of file)
Can I maintain more than one list on this service?
Yest, multiple phone lists can be maintained on our web service. Simply pick one of these previously maintained files and designate a voice message and the DSC voice broadcasting system can start calling.
How do I start a school call broadcast?
The most common method of initiating a school message broadcast is through our secure website. After logging in, users can pick a phone list and designate a specific phone message. Then by selecting the "Start" button, a voice broadcast campaign can begin.

Another method of starting a voice broadcast is through our 800 phone service. By responding to prompts from our 800 service, voice broadcast campaigns can be initiated over the phone.

Finally, voice broadcasts can be initiated by a computer or web event using our VoiceXML automated voice broadcast feature.
Can a computer initiate a phone message broadcast?
Yes, voice messages can be sent from existing computer systems and applications. Using VoiceXML, Database Systems Corp. supports several "canned" XML formats, but can develop new formats that fit your requirements.

To send voice messages to be delivered to one or thousands of call recipients, simply modify your existing web or computer software application to send instructions to our phone server that include the following information:
Voice or text file containing message to be delivered.
Call recipient phone number(s) or
List of phone numbers already maintained on our phone system.
Date and time of delivery.
Any special instructions.
---
Call Us Today
Contact DSC to learn more about our school notification and calling services.